We started working with Netflix in 2008, creating a system that would track and rank the 41,000 teams across 180 countries competing for their now famous million-dollar Netflix Prize. Since that time we have worked with them on numerous other projects including PR campaigns, HR systems, business process management systems and continued refinement of these systems on an ongoing basis.
THE NETFLIX PRIZE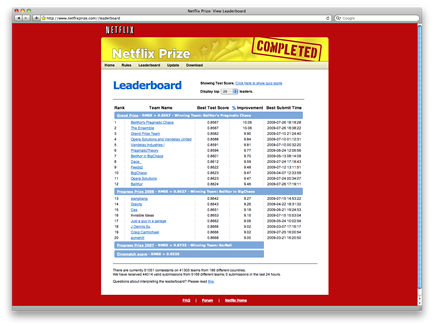 In summer of 2006, Netflix had the idea to engage the machine-learning community to help improve their Cinematch technology, opening the door to thousands of development teams from around the world to take a crack at improving their already successful movie-matching algorithm. The incentive? A million dollar prize to the top development team. Case Study | Wikipedia Article
360 Review System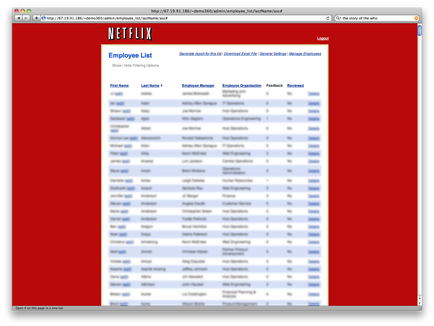 When Netflix CEO, Reed Hastings, posted his slides on company culture, the internet went abuzz with the Netflix style of management. A central part of their management style, "Employee 360 Reviews", relies on a custom built web application by Internet Simplicity.
Find Your Voice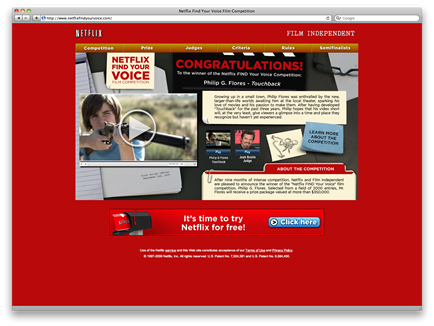 A collaboration between Netflix and Film Independent to offer "the opportunity of a lifetime for a first time filmmaker" The winning screenplay received the means to create their movie, a package worth approximately $350,000.
Other Projects
In addition to the above developments, we have performed various other projects for Netflix ranging from refinements of HR systems to implementation of PR ideas.
projects